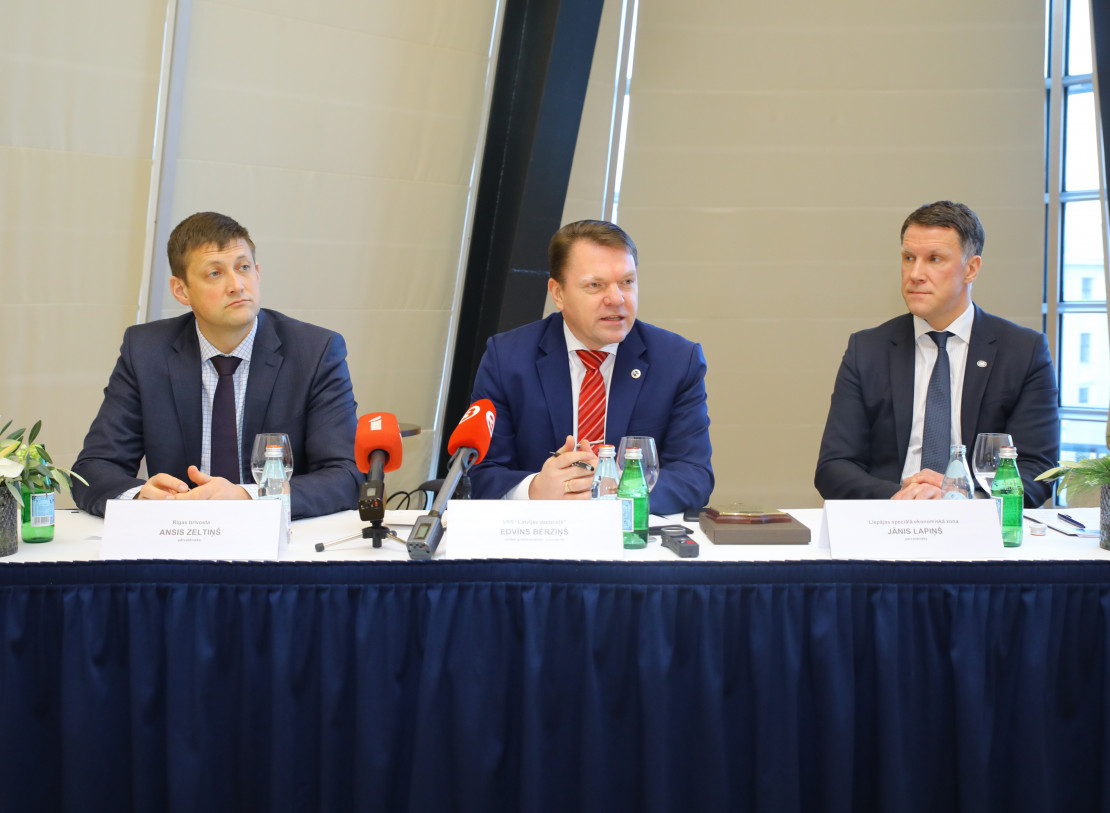 In 2018, the SJSC (VAS) "Latvijas dzelzceļš" (LDz) has reached the best economic performance results in the last three years, and this achievement is mainly based on reviewing of the company's business organisational and processes and significance increase in productivity, strengthening of cooperation with the current partners, as well as establishment of cooperation with new partners by offering freight transportation services in the Asian–Western Europe transport corridor.
49.3 million tons of freight were transported on LDz infrastructure in 2018 representing 12.5% over the indicators of 2017. Whereas, according to the operational financial data, net turnover of LDz exceeded 209.4 million euro in 2018, representing 16% over the indicators of 2017, and that was the best indicator since.
Edvīns Bērziņš, President of LDz: "Improvement of the economic performance indicators of the Group of Companies "Latvijas dzelzceļš" is evidence that, by entering new markets step by step, LDz has been able not only to retain stability, but also to improve competitiveness and provide sustainable growth. We've been constantly analysing both the regional and international markets, economic processes and tendencies thereof, and operational financial data of LDz show that we have made the right decisions and purposefully implement efficient model of operation. We have positive expectations also regarding this year, 2019, and forecast equally positive economic performance results!"
In comparison with 2017, increase is significant in nearly all freight segments. The transportation of coal has increased by 28.2% reaching 22.6 million tons, accounting for 46% of the types of transported freights. Significant growth was observed also in the transportation of grain and flour products in 2018, reaching 2.8 million tons, representing 63.8% over the indicators of 2017. The volume of transported chemical cargoes has grown by 36.3%, volume of transported timber products – by 50.7%, minerals – 29.5%, whereas, ore – by 27% in comparison with 2017.
The largest volume of freight have been transported in traffic with Russia – 66.5%, however, traffic with Belarus showed significant increase in 2018 – proportion of the transported freight was 27.1% of the total volume of the transported freights. Oil and oil product cargoes form account for the largest proportion in traffic with Belarus. Volume of traffic in 2018 have increased by 58.2% reaching 1.8 million tons.
Economic activity has led to increase in transported railway freight in traffic with three largest ports – Riga, Ventspils and Liepāja, reaching in total 40.5 million tons, representing 11% over the indicators of 2017. 23.6 million tons have been transported in traffic with the Port of Riga, 12 million tons – in traffic with the Port of Ventspils, but 4.9 million tons – in traffic with the Port of Liepāja.
Number of the passengers transported on LDz infrastructure has also increased last year – 18.2%, representing 4.3% over the indicators of 2017. 18 million passengers have been transported domestically, while 166.4 thousand – in the international traffic. Largest number of passengers – 16.3 million – were transported by electric trains last year.
In order to retain the current volumes of freight traffic and to increase them, LDz will continue to strengthen cooperation with the current clients in 2019, as well as to offer freight transport services in traffic with the countries of the Asian region.
The SJSC (VAS) "Latvijas dzelzceļš" is a public-use railway infrastructure manager and the leading company of the Group of Companies "Latvijas dzelzceļš". The group of companies includes six subsidiaries: JSC (AS) "LatRailNet", which determines the infrastructure charge and distributes the railway infrastructure capacity; LLC (SIA) "LDZ CARGO", which ensures rail freight transport and international passenger transport; infrastructure construction and maintenance company LLC (SIA) "LDZ infrastruktūra"; rolling stock repair and maintenance company LLC (SIA) "LDZ ritošā sastāva serviss"; security company LLC (SIA) "LDZ apsardze", as well as logistics company LLC (SIA) "LDZ Loģistika". LDz has received Platinum category of the Sustainability Index and is listed among five the most valuable and best managed companies in Latvia according to the annual rating compiled by "Prudentia" and "Nasdaq Riga".