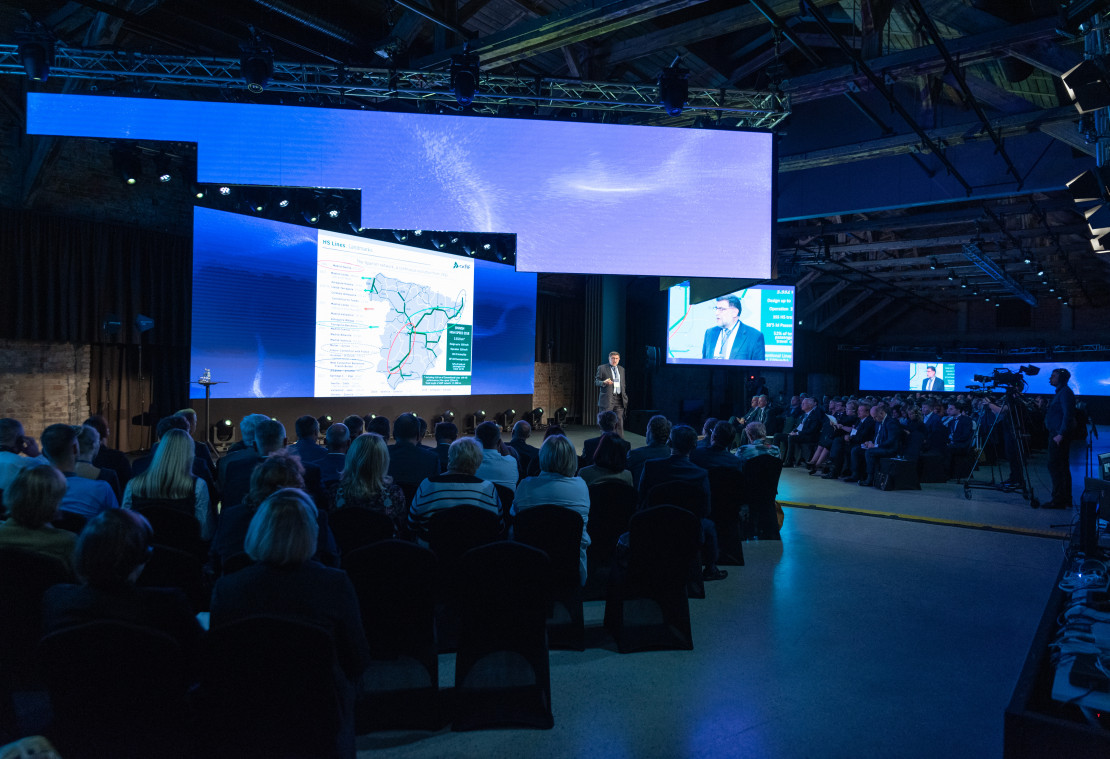 The Rail Baltica project will connect two railway gauge systems in the Baltics, including Latvia: the existing railways with a track gauge of 1,520 mm and railways with 1,435 mm track gauge, the standard gauge in the rest of Europe. While such connections may seem very difficult, almost an impossible mission, it is a modern-day reality and successful projects in other countries prove that it is possible. Moreover, such connections have their advantages, as Spanish railway expert Joaquín Jimenez Otero emphasized at SJSC Latvijas Dzelzceļš conference Global Transport Development Challenges.
The Baltic countries are not the first case of connecting two different gauge tracks. In Spain, such a solution has been implemented decades ago and proved to be a success, Joaquín Jimenez Otero, Deputy Director of International Relations at the Spanish company ADIF, stressed during the conference. Even though connecting two different gauge systems may seem very difficult, it is possible – to the benefit of residents and the economy.
As an example, he cited an increase in the number of passengers who started using railway as their main commuting mode, not even knowing at what point during the trip there was a switch from one gauge to another.
"We can travel from Paris and Luxembourg to Spain, where there is a different gauge track. Working together is one way to solve the situation with different rail gauges," stressed Otero.
China is a good example of how the introduction of high-speed trains has dramatically changed mobility opportunities. As the country's economy improved, increasingly more people moved from the countryside to the cities, and railway was chosen as the main mode of transport as it was both cheaper and faster. From the outset, there was a significant increase in passenger traffic, said Jing Long, Deputy Director of the Centre for European Studies at the Shanghai Institute for International Studies.
High-speed railways have not only improved mobility opportunities, passenger flows were also adjusted.
The involvement of public administration is important for the implementation of global transport and infrastructure strategy, the expert emphasized. As an example, she mentioned several Chinese cooperation projects in Europe – in Serbia, Montenegro, Hungary and Croatia.
China also sees the potential for new freight routes to Europe, known as the China-Europe Express. There are currently more than 65 freight lines connecting 59 cities in China with almost 50 cities in 15 European countries. There are challenges in organizing freight transport, including the unbalanced development of China's regions, the differing legal norms in China and Europe, and poor use of natural and human resources due to overlapping lines, said Jing Long.
Latvia has been one of China's cooperation partners in rail freight transport in recent years, the expert emphasized. "Latvia is a very important transport hub for China's cooperation with Europe. We hope there will be more opportunities to work with Latvia," added Jing Long.
This is the sixth time Riga is hosting the conference Global Transport Development Challenges, and over these years it has become an important meeting point for transport and logistics industry experts, visionaries and decision-makers from more than 35 European and Asian countries.