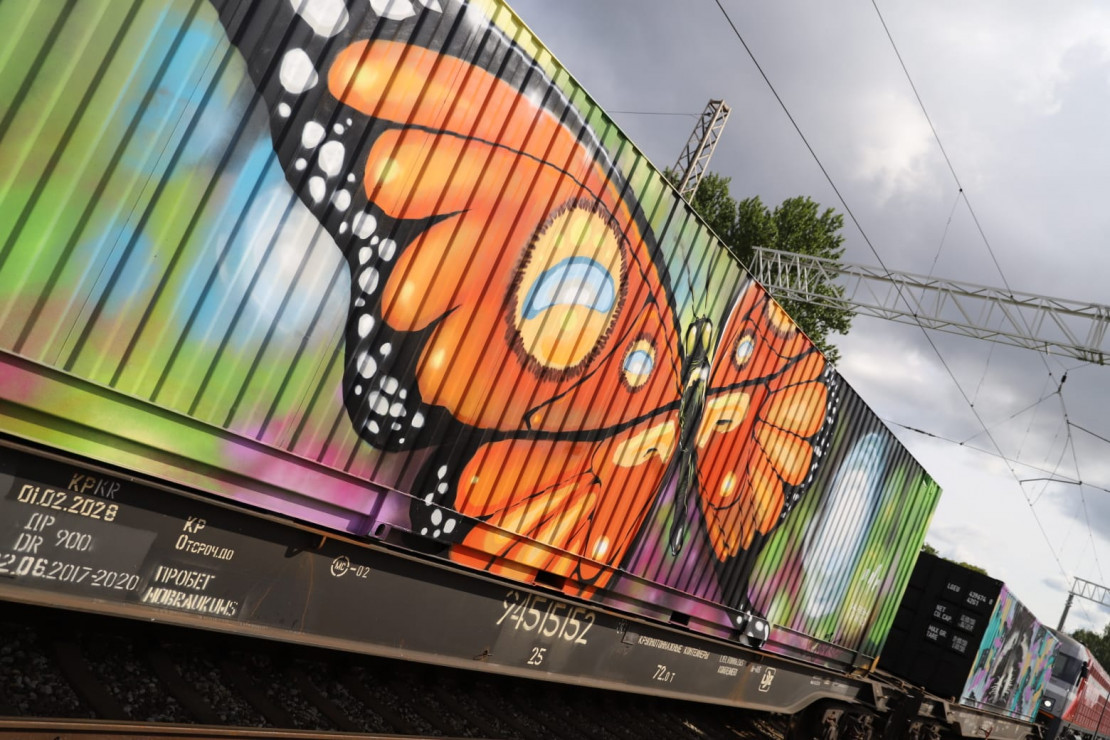 The transport industry's impact on the environment can be reduced if railway is chosen for freight transport increasingly often. Responding to SJSC Latvijas Dzelzceļš (LDz) invitation and highlighting railway as one of the climate-friendliest modes of transport, Noah's Train – Europe's longest mobile work of art that has been travelling around Europe since December 2018 – has arrived at the Riga Central Station.
Noah's Train of the international coalition Rail Freight Forward – containers decorated with animal motifs – will be on display at the Riga Central Station's platform 12 until Friday, August 9. On Monday, August 5, SJSC Latvijas Dzelzceļš President Edvīns Bērziņš presented Noah's Train and the company's activities to reduce climate change.
"Noah's Train is not just a work of art, it is also a messenger of climate change, created by drawing inspiration from Noah's Ark, which is arguably the world's oldest symbol of environmental protection. LDz, too, strives to introduce increasingly climate-friendly solutions by looking for alternatives to diesel fuel and implementing the major railway electrification project, where the primary objectives are based on environmental goals," emphasizes Edvīns Bērziņš.
The goal of Rail Freight Forward is to shift 30% of freight in Europe to rail by 2030, up from 18% at this time. Latvia has already attained the goal – slightly more than 38% of the total freight amount in Latvia was transported by rail in 2018. 49.2 million tons of freight was shipped through LDz infrastructure last year, a 12.5% increase on 2017. LDz President points out that, regardless of Latvia's remarkable achievements, more progress must be made and the amount of freight transported by rail has to continue to increase.
We hear about different consequences of climate change on a daily basis, increasingly often these matters are included on the agenda of high-level meetings and they take priority over other problems. World Wide Fund for Nature Chairman in Latvia Uģis Rotbergs: "Climate change is very fast, there's no time for waiting. Climate crisis and preservation of natural diversity were also named the main challenges today at the World Economic Forum in Davos. One of the biggest challenges at this time is decoupling economic growth from fossil fuel sources. We would be very happy if other industries too, like the railway industry, were looking for solutions to reduce climate change."
The authors of the Noah's Train initiative point out that freight transport by rail is six times more energy efficient than transport by road. Furthermore, rail transport is the best way to integrate economic growth with climate goals.
Participants in the Rail Freight Forward coalition are several major European railway and logistics companies, including Deutsche Bahn, Italian railway company, Swiss company for freight transport by rail, as well as the International Union of Railways (UIC) and the Community of European Railway and Infrastructure Companies (CER).
These companies and organizations are aware of the transport industry's impact on the environment, and that shifting more freight to rail transport from road transport will help stop climate change.
The objective of the coalition is to not only reduce the transport industry's negative impact on the environment and help achieve climate action goals, but to also make the rail transport sector an efficient and sustainable system with high added value that would form the European logistics industry's backbone.