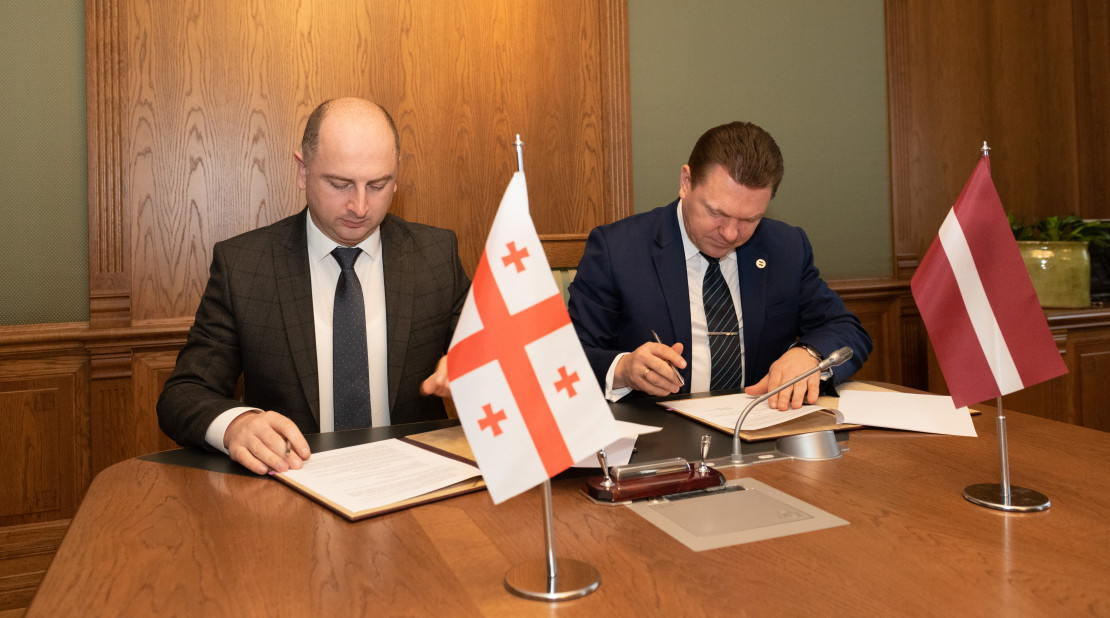 Friday, 14 December, the President of VAS /SJSC/ "Latvijas dzelzceļš" (LDz), Edvīns Bērziņš, signed a memorandum of understanding with the Georgian railway company (JSC "Georgian Railway") on further cooperation in implementation different projects.
The goal of the memorandum of understanding is to establish a basis for further development of cooperation, including in the field of multimodal transportation. Moreover, the memorandum will serve as basis of further agreements, if those will be necessary to implement specific cooperation projects.
President of LDz Edvīns Bērziņš: "Georgia is developing rapidly, it is obvious. It is important we are of the same opinion about majority of matters and that is power that a good cooperation needs to attract other partners from other countries. Our cooperation will bring us extensive opportunities."
"Signing of memorandum is the beginning of future opportunities. We are open to cooperation and support, to use our potential in organising freight transport as much as possible. We are also ready to provide support to LDz in organising freight transport using the freight corridor of Central Asia," during signing of the memorandum, the head of the Georgian railway company, David Peradze, said.
Pursuant to the agreement, LDz will have access to information about market situation in both countries.
Railway companies of both countries will cooperate in the field of international freight transport, as well as within the framework of container train ZUBR and transport corridor of Central Asia. The memorandum provides that LDz will provide information to Georgian colleagues about the container train ZUBR project and its opportunities. The Georgian railway company, in its turn, will provide all the necessary information about the transport corridor of Central Asia.
The container train ZUBR connects the ports of Latvia and Ukraine, and from the Ukrainian ports of Chornomorsk, Odessa, and Yuzhny freight can be transported to the ports of Georgia, thereby extending the route of container train to the countries of Central and Eastern Asia.
The memorandum will create an opportunity to attract new freight from Central Asia and China.