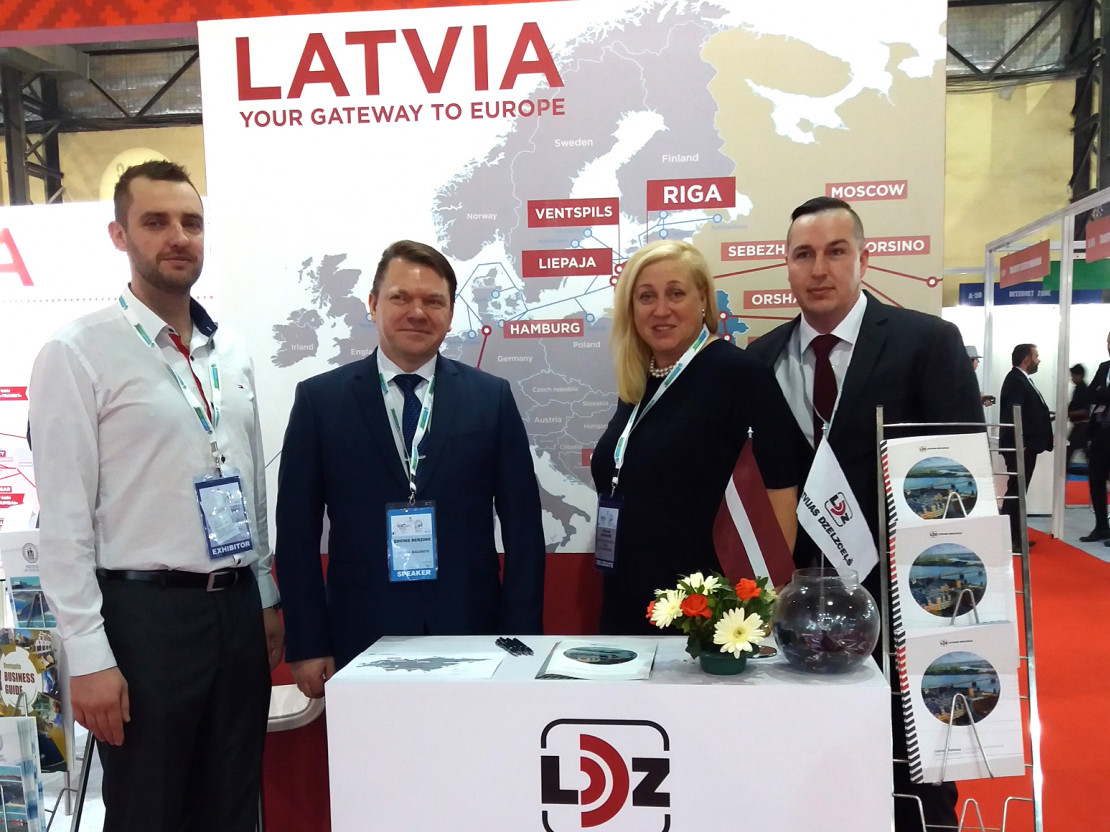 As part of its work on developing the North-South Transport Corridor, this week, VAS 'Latvijas dzelzceļš' (LDz) visited India where took part in an annual transportation-related conference and trade fair in Mumbai where presented the Latvian transport corridor with Latvia's three largest seaports and met potential business partners.
At the conference, particular attention was paid to the business development of shipping container transport, as this segment currently has a high growth potential in India. This is why one of the goals of the conference is to promote attempts at finding best solutions for public institutions and private businesses cooperating in organising freight traffic.
Both the state secretary to Latvia's Ministry of Transport Kaspars Ozoliņš and LDz Board Chairman Edvīns Bērziņš participated in the conference. Opening the conference, K. Ozoliņš highlighted the role of globalisation in developing freight traffic solutions in all of Eurasia, with India's growing economy being an opportunity for the transportation and logistics segment in Latvia.
'The transportation industry has seen much significant change in recent years, change that has been felt not only by us, but also by larger countries like India that realise that they must adapt to the new conditions. India's economy grows, seeking opportunities for partnerships in trading its goods with other Asian countries and with Europe. The cooperation that has now been established can open up enormous opportunities for us in the future, when transport corridors with Europe start working in a stable manner — which is why we must be ready for this now,' LDz Board Chairman Edvīns Bērziņš emphasised finding new contact and representing Latvia at such international forums.
The Managing Director of Indian Port Rail Corporation Limited, Anoop Agrawal, with whom E. Bērziņš discussed the possible freight consolidation in the direction of Latvia, praised the cooperation memorandums that LDz signed with logistical enterprises in Iran and India, and considered the possible freight operators in Iran, the sharing of freight costs and the organisation of customs procedures.
During the meetings with Indian colleagues, it was emphasised that LDz is the core of Latvia's transit segment, as freight logistics work effectively, only if railways ensure direct connections to sea transportation, and vice versa. As E. Bērziņš noted, this is particularly important establishing connections with Scandinavia.
Meanwhile, Latvia's transportation companies —LDz, Freeport of Ventspils and Freeport of Riga— participated with a shared stand at the Trasport Logistic India fair that took place this week. As part of it, Indian business partners were provided with comprehensive information about the advantages of the Latvian transport corridor, and the possible freight logistics solutions.
VAS 'Latvijas dzelzceļš' manages the public railway infrastructure in Latvia, and is the leading company of the 'Latvijas dzelzceļš' group. The group includes six other subsidiaries: AS LatRailNet, which determines the rates for the use of infrastructure and allocates the railway infrastructure capacities; SIA LDZ CARGO, which carries out railway freight transport and international passenger transport; the infrastructure building and maintenance company SIA 'LDZ infrastruktūra'; the rolling stock repairs and maintenance company SIA 'LDZ ritošā sastāva serviss', the security company SIA 'LDZ apsardze', and the logistics company SIA 'LDZ Loģistika'.