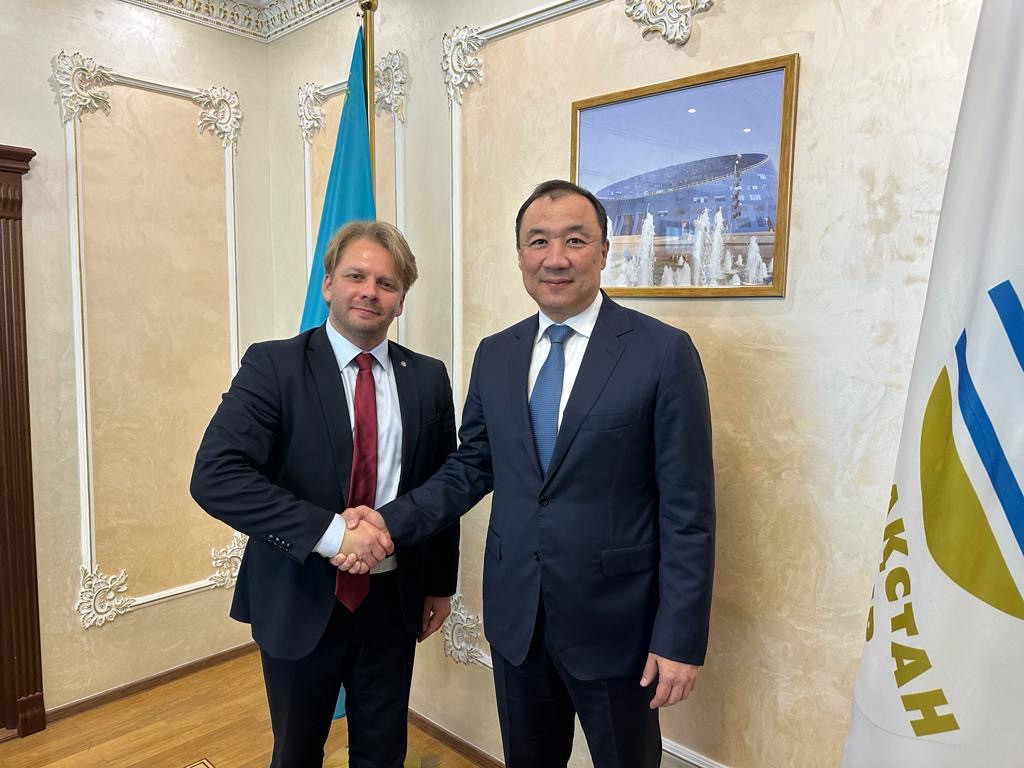 This week, October 4 to 6 Kazakhstan is hosting international transport and logistics exhibition TransLogistica Kazakhstan 2023, where Latvian Ministry of Transport and major companies of Latvian transit industry, including SJSC "Latvijas dzelzceļš" and LDz Group companies "LDZ CARGO", "LDZ Loģistika", "LDZ ritošā sastāva serviss", and other Latvian transport corridor representatives traditionally participate under the single brand VIA LATVIA.
During the visit to Kazakhstan, Rinalds Pļavnieks, Chairman of the Board at SJSC "Latvijas dzelzceļš", met with Nurlan Saranbayev, head of Kazakhstan's national railway company, to discuss further cooperation prospects, current challenges, opportunities for improving transport planning and organization procedures, including the use of electronic waybills for transport between Latvia and Kazakhstan, which would improve customer service quality and optimize carriers' business procedures.
SJSC "Latvijas dzelzceļš" Chairman of the Board Rinalds Pļavnieks: "Kazakhstan is an important partner for Latvia in rail transport, which is confirmed by the increasing freight volumes across a number of freight groups this year, such as grain products, chemical freights, metals and other freight segments, and LDz is interested in further developing multimodal routes from Central Asia to Europe, using the transit potential of both Latvia and Kazakhstan."
In the first eight months of this year, the total amount of freight transported by rail between Kazakhstan and Latvia was 1.7 million tons. Although coal shipments decreased during this period, transport of grain products increased 3.5 times to 208,000 tons, chemical freights grew 2.3 times to 22,000 tons, and transport of metals and ferroalloys rose 1.9 times to 234,000 tons.
Kazakhstan is an important cooperation partner for Latvia not only in terms of transport between the two countries, but also in organization of further rail freight transport with other Central Asian countries, in particular Uzbekistan.