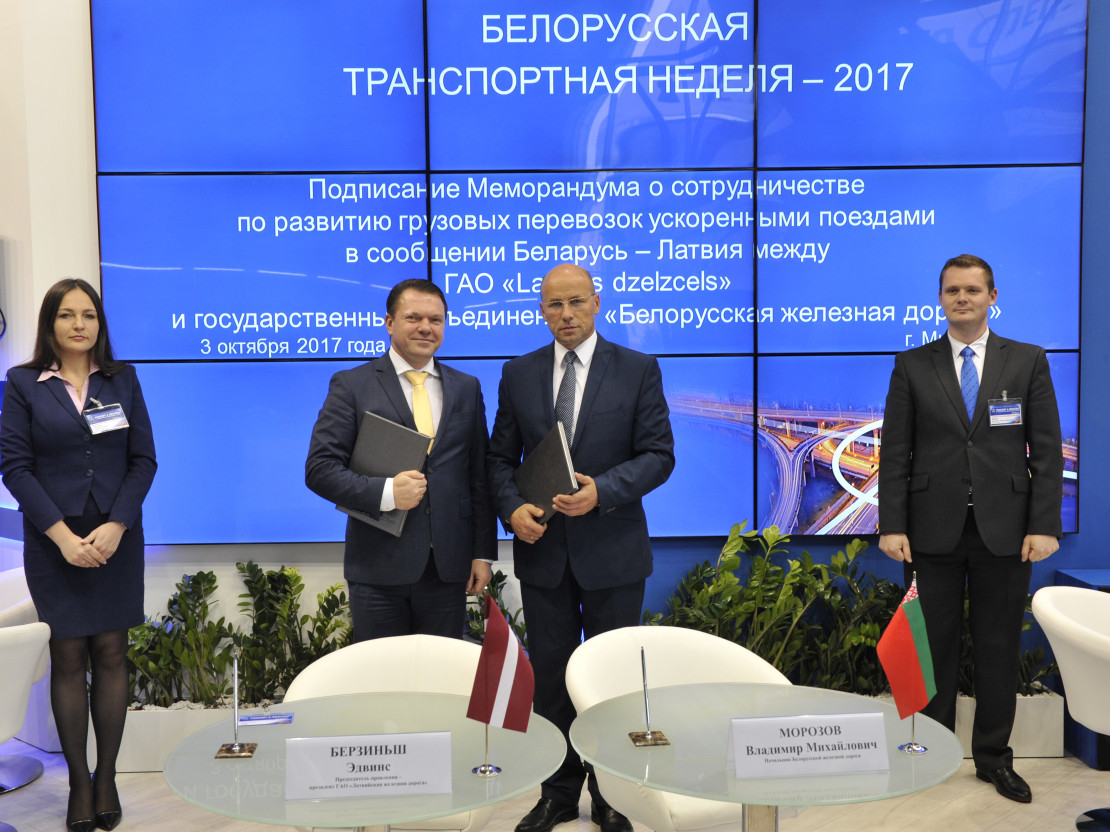 On 3 October, VAS (State Joint Stock Company) "Latvijas dzelzceļš" (LDz) and Belorussian railway agreed on closer cooperation, offering their clients faster and more favourable cargo transportation between Minsk and Riga, as well as agreed to develop a new offer: cargo express train "Minsk-Riga". This is provided by the cooperation memorandum between LDz and Belorussian railway.
Memorandum signed by the heads of both companies provides to launch the pilot project of express train "Riga-Minsk". Considering the interest of clients in fast cargo movement between the capitals of Latvia and Belarus, the railway companies plan to offer their clients express train that would be, upon client's request, sent from Minsk to Riga or vice versa within 28 hours.
The President of LDz Edvīns Bērziņš: "We work to satisfy the demand of our clients to transport cargo; however, our long-term goal is to ensure regular cargo movement at all the key routes. Therefore, development of a new and fast transport flow between Riga and Minsk will allow us to process our clients' requests faster. Considering the growing significance of Belarus in the context of the joint project of Belarus and China "The Large Stone" being developed near Minsk, our offer will allow us to process cargo coming from this new point of logistics.
The signed memorandum is the next step to strengthen position of LDz in the Belorussian transit and logistics market. In the beginning of this year, a representative office of LDz was opened in Minsk the goal of which is to foster development of business relations with Belorussian companies and organisations, gather information on the Belorussian market segments in which LDz is interested and promote attraction of cargo to the Latvian transit industry.
The memorandum was signed this week in the Belorussian capital Minsk within the framework of the Transport Week of Belarus. At the same time, LDz and its subsidiaries took part at an international industry exhibition, and the LDz President Bērziņš presented LDz as a trustworthy service provider for cargo transport between Asia and Europe at an international conference "Connecting Belorussian Transport and Logistics System with the Silk Way".
VAS "Latvijas dzelzceļš" is the manager of public railway infrastructure and dominant company of the "Latvijas dzelzceļš" Group. The Group includes six subsidiaries: AS "LatRailNet" that determines infrastructure fee and division of railway infrastructure capacity, SIA "LDZ CARGO" that provides railway cargo transport and international passenger transport, SIA "LDZ infrastruktūra" involved in construction and maintenance of infrastructure, SIA "LDZ ritošā sastāva serviss" responsible for repairs and maintenance of rolling stock, SIA "LDZ apsardze" engaged in guarding services, as well as logistics company SIA "LDZ Loģistika".