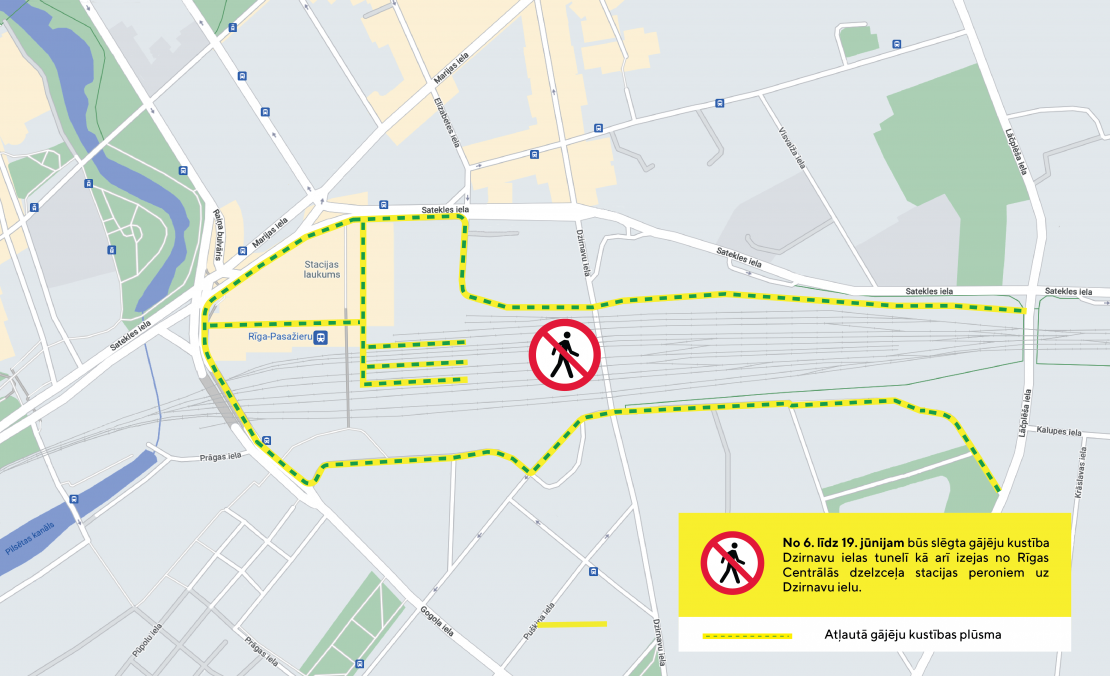 The general partnership BERERIX continues construction works of the Central Multimodal Junction Viaduct envisaged in the Rail Baltica project, during which it is planned to dismantle the overpasses at Dzirnavu and Prāgas Streets.
In order to ensure safe movement for pedestrians and transport, restrictions on movement and traffic in both closed tunnels under the overpasses are planned during the dismantling works. There will be road signs and information in place to inform about the changes.
The dismantling of the Dzirnavu Street tunnel in the section from Satekles Street to Turgeņeva Street will be carried out from June 6 to 19, during which time transport and pedestrian traffic will be closed. During this time, the entrances / exits to the platforms of the Central Railway Station from Dzirnavu Street will also be closed for train passengers. Traffic and pedestrian flows will be organized along the parallel streets of the city - Satekles and Gogoļa Streets, as well as along Turgeņeva, Timoteja, Abrenes and Lāčplēša Streets.
We invite train passengers and visitors to the Central Railway Station to follow the directions and plan a detour to get to the chosen destination in time.
More about the dismantling of the overpass and the changes which will be made during this process can be found here: https://edzl.lv/aktualitates/projekta-jaunumi/tiks-veikta-pragas-un-dzir...