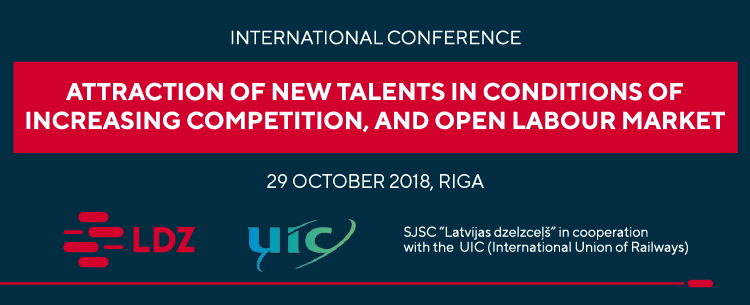 State Joint Stock Company "Latvijas dzelzceļš" in cooperation with the UIC (International Union of Railways) organises international conference "Attraction of young talents in conditions of increasing competition, and open labour market". The conference will be held in Riga, on 29 October 2018.
Business world is changing rapidly influenced by technologies, and automation. Railway industry is not an exception. New requirements for international cooperation, ability to use modern communication technologies and large amount of data have emerged in daily life. To provide the necessary labour force talent management, and development of skills is the basis of strategic and modern human resources management.
The urgent needs of the industry in relation to labour force, opportunities, and goals of different age groups to develop an individual career in a modern working environment, skills necessary in future, and best practice examples will be discussed at the conference. The conference will be attended by leading railway officials, specialists of human resources management, and teaching staff of universities.
Venue: Faculty of Energy and Electrical Engineering of Riga Technical University, Āzenes Street 12/1, Room 115.
Start of the conference: 9:00 a.m., registration of participants from 8:30 a.m.
The conference will be held in English, with simultaneous interpretation in Latvian and Russian.
Participation in the conference is free of charge.
Please confirm your attendance until 19 October 2018 by registering HERE
Contact person: Krista Elsta, VAS "Latvijas dzelzceļš", tel. 67233790; mob. 26307603, krista.elsta@ldz.lv