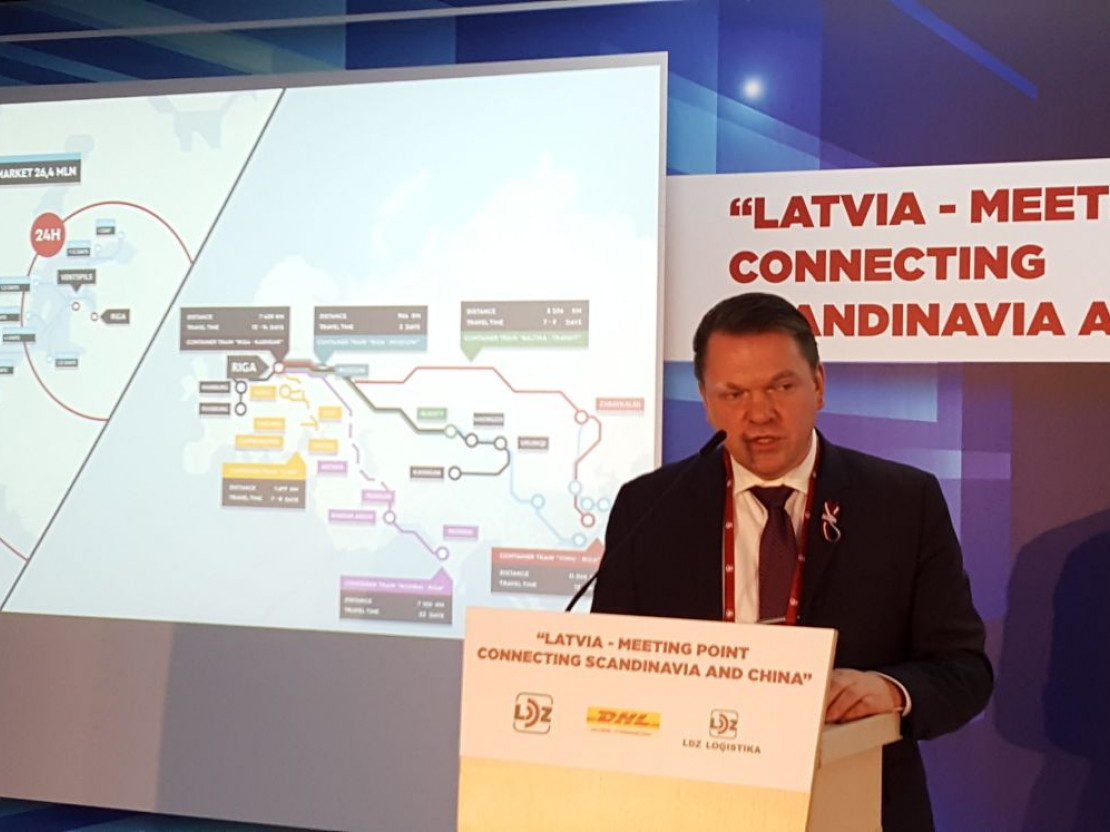 An international conference "Latvia – a Meeting Place Connecting Scandinavia and China", jointly organised by the State Joint Stock Company Latvijas dzelzceļš (LDz) and DHL Global Forwarding, was held today in Riga to discuss opportunities for cooperation and seek solutions for the development of transit routes connecting China and Northern Europe.
Steve Huang, CEO of DHL Global Forwarding, stated that the Chinese economy was currently facing significant challenges caused by the rapid economic growth of the recent years. "Dependence on fossil fuels, unequal regional development and a GDP growth based on investments in infrastructure all facilitate a desire to develop economic ties and markets for manufactured goods outside of China, and Latvia could provide a connection to Europe", said Mr. Huang. "Latvia is going to be a very, very important transport hub between China and Europe," he stressed.
During the event opening, the Minister of Foreign Affairs of the Republic of Latvia, Edgars Rinkēvičs, emphasised the positive impact of the geographic location of Latvia on the cooperation with partners from the Baltic Sea region, as well as other Eastern European and Asian countries, including China. He reminded that, as the presiding country of the European Union, Latvia achieved the approval of the new EU strategy for Central Asia, according to which cooperation in the transport sector is essential. "This conversation is a great opportunity to transition from political and diplomatic methods to a very practical type of cooperation," Mr. Rinkēvičs said.
Latvia already enjoys close links with China and Scandinavia. Besides, as expressed by the Latvian Minister of Transport, Uldis Augulis, although China is a geographically distant cooperation partner, the previous cooperation in the field of transport has proven that distance is not an obstacle to the cooperation. The Minister also stated that the most significant achievement in our cooperation with the Scandinavian countries involved the regular sea transport services allowing shipments to be sent from the ports of Latvia to virtually any port of Scandinavia within 48 hours. At the same time, the current cooperation with China contains a realistic promise of further collaborative projects in the near future. "Our next task is to ensure an equal flow of cargoes in both directions. It is not a secret that the amount of cargo coming from China is double as much as that sent from Europe to China. Our challenge is to achieve an increase of cargo flows from Northern Europe to China, making this a more competitive route," Mr. Augulis noted.
Looking back at the previous cooperation with partners from Northern Europe and Asia, LDz President Edvīns Bērziņš talked about signing cooperation agreements with one of the largest logistics companies in the world, DHL Global Forwarding, as well as the Port of Duisburg, operators RTSB and TransContainer, and the Khorgos logistics hub in Kazakhstan. "We have built a large network of transport routes in cooperation with partners from different countries and regions. We need to continue our work in developing multimodal shipping opportunities involving all modes of transport," Mr. Bērziņš stated. Important strategic partnerships were also developed through the participation of LDz at Astana EXPO 2017 and the international forums, which took place last week in India and Iran, promoting not only the establishment of new routes from China to Europe, but also LDz's participation in the development of the North-South Transport Corridor.
The event ended with a panel discussion, during which Andris Maldups, Director of the Transport Policy Department of the Ministry of Transport, together with Verners Lūsis, Director of SIA LDz Loģistika, as well as representatives of other logistics companies, discussed the challenges to be overcome by all parties involved in order to facilitate faster connections. The participants also discussed the development of other routes within the North-South Transit Corridor, with particular emphasis on the recent visits of the management of LDz and its subsidiary SIA LDz Loģistika to the international forums in India and Iran.
SJSC Latvijas dzelzceļš is a public railway infrastructure manager and the Latvian Railways Group holding company. The group also includes six subsidiaries: AS LatRailNet, which determines infrastructure charges and distributes railway infrastructure capacity; SIA LDZ CARGO, which provides rail freight and international passenger transport services; SIA LDZ infrastruktūra – an infrastructure construction and maintenance company; SIA LDZ ritošā sastāva serviss – a rolling stock repair and maintenance company; SIA LDZ apsardze – a security company; and SIA LDZ Loģistika – a logistics company.