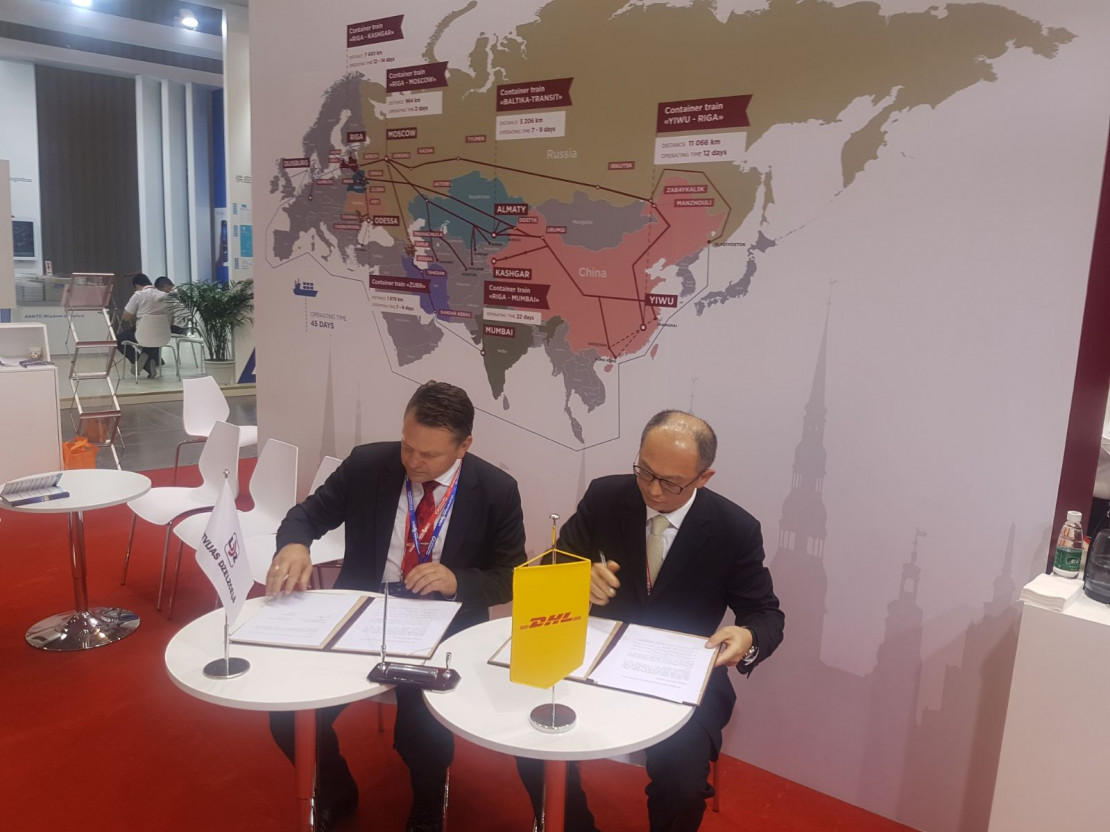 Agreement seeks to establish high-speed multimodal rail routes between Latvia and China, using Riga City as logistics hub for Baltic and Nordic regions
New freight connections will give Baltic states easier access to immense untapped export opportunities in China and Asia Pacific region
Riga, 28 June 2017: Baltic and Nordic exporters can look forward to faster, cheaper and more reliable logistics connections to China's immense export market, following the signing of a new agreement between Latvia's State Joint Stock Company Latvijas dzelzceļš (LDz) and DHL Global Forwarding, the leading international provider of air, sea and road freight services.
The Memorandum of Understanding and Cooperation (MUC) signed today between both companies will see both organizations focus on establishing multimodal rail connections between China and Latvia, including both freight connections and consolidation services centered in Riga City. Under the MUC, new connections will include guaranteed transit times and simplified customs and handling procedures for inbound and outbound cargo, as well as support for more flexible shipments such as Less-than-Container Load (LCL) freight.
"So far, very few Baltic or Nordic businesses have fully tapped into the immense market opportunities that China and the broader Asia Pacific region currently offer," said Steve Huang, CEO, DHL Global Forwarding Greater China. "The two regions' exports made up only 0.7% of China's imports on average between 2011 to 2015, despite China's demand for overseas goods which both regions excel in – like high-quality food products, textiles, and pharmaceuticals – growing rapidly in this time.[1]"
"With the economies of Latvia and its neighbors expected to grow faster than the rest of the European Union,[2] businesses in the region will need to look to new markets like China to fuel their expansion. By building rapid, reliable logistics connections between the Baltic and Asia Pacific, we hope to give the region's businesses a strong foundation for ongoing growth."
The MUC comes as DHL begins service along its newest Asia-Europe multimodal route connecting Shenzhen to Minsk via rail. DHL holds similar agreements with national rail providers in Belarus, Chengdu, and other major hubs along China's proposed "Belt and Road" trade routes.
"DHL has led the way in realizing the Belt and Road's opportunities for numerous countries, including the Nordic states that its Shenzhen-Minsk route will directly service," said President of LDz, Edvīns Bērziņš. "This new agreement will give Latvian businesses the flexibility and confidence to engage in freer trade with Chinese and Asian markets, as well as establish Latvia as a strategic gateway along the Belt and Road to other parts of Europe – a twofold boost to the country's production and logistics industries."
The MUC also includes provisions for ocean freight and intermodal shipping between Latvia, Scandinavia, and the UK and Ireland, as well as air and road freight connections to major cities across continental Europe.
DHL – The logistics company for the world
DHL is the leading global brand in the logistics industry. Our DHL family of divisions offer an unrivalled portfolio of logistics services ranging from national and international parcel delivery, e-commerce shipping and fulfillment solutions, international express, road, air and ocean transport to industrial supply chain management. With about 350,000 employees in more than 220 countries and territories worldwide, DHL connects people and businesses securely and reliably, enabling global trade flows. With specialized solutions for growth markets and industries including technology, life sciences and healthcare, energy, automotive and retail, a proven commitment to corporate responsibility and an unrivalled presence in developing markets, DHL is decisively positioned as "The logistics company for the world".
DHL is part of Deutsche Post DHL Group. The Group generated revenues of more than 57 billion euros in 2016.