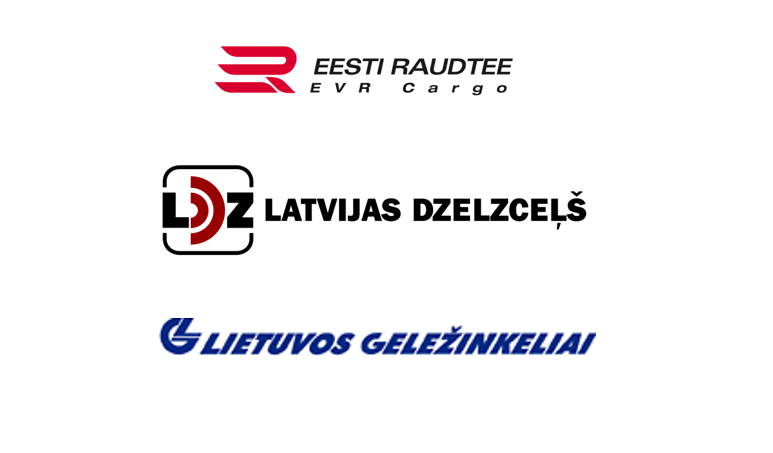 The first train on the line has been launched from Šeštokai railway station in Lithuania to Paldiski terminal in Estonia overnight.
The intermodal "Amber Train" freight train, carrying cargos on route Šeštokai-Riga-Tallinn, is set to connect the three Baltic States and create new business opportunities for freight carriers.
"The launch of the first train on the "Amber Train" route is an excellent example of effective collaboration between the national railways of Lithuania, Latvia and Estonia, where the essential details to bring the project to practical implementation were agreed on and coordinated within a month from the birth of "Amber Train" concept. Cargo from Western Europe will now reach the Baltic States in the shortest time possible" – says Mantas Bartuška, the General Manager of Lithuanian Railways.
President of the Latvian Railway Mr. Edvins Berzins: "Amber train is an excellent example of cooperation among three Baltic States. Our joint work resulted in a real freight transportation for a client. We believe our cooperation has great potential – in future newly planned European gauge railway infrastructure might provide new opportunities, but today we can work with existing network and offer our clients convenient and efficient freight logistics."
Lithuanian Railways locomotive facilitated transportation of 43-container shipment through territories of 3 countries. Cargo, which arrived to the region from France, was picked up in Poland and carried through Šeštokai transhipment station (Lithuania) to Latvia, where it was taken over by Latvian carrier "LDz Cargo" and further transported to Paldiski terminal (Estonia) in collaboration with Estonian carrier "EVR Cargo".
The client of the first "Amber Train" cargo shipment is Forwardis, French rail and multimodal freight forwarding company, owned by the French SNCF Logistics Group, one of Europe's leading freight forwarders.
The purpose of the first test train on the route was to examine technological processes, time schedules, speed in between the stations on route and the exchange of documents and data. Following the successful first journey on the "Amber Train" route, it is planned to have partners meeting in Vilnius to discuss the results of the test and finalize all technological and commercial conditions.
"Amber train" is a joint project between Lithuanian Railways, Latvian Railway and Estonian "EVR Cargo". The launch of the project was agreed on the 12th of March in Riga.
The project will help the Baltic States to unite their efforts in developing intermodal carriages by combining different modes of transport. The adopted method of transportation saves not only the costs for clients and carriers, but also reduces environmental pollution, congestion, noise, road accidents and other negative effects of road transport on the environment.