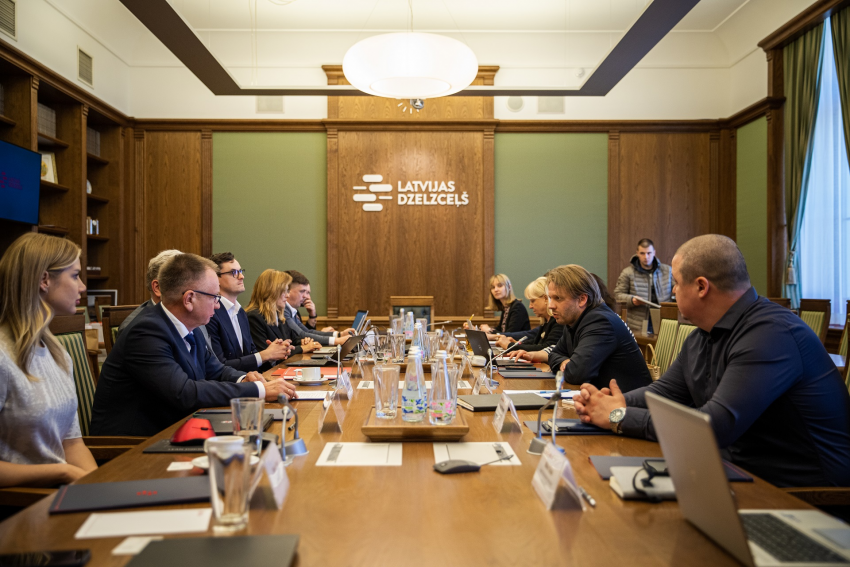 This week, a meeting was organized for representatives of Latvian, Estonian and Lithuanian railway companies to develop cooperation in the transportation of contrailer and container cargo as part of the Amber Train project.
The meeting, whose participants included representatives of SJSC "Latvijas dzelzceļš" (LDz), LLC "LDZ CARGO", JSC "LatRailNet", Estonian Railways, Estonian railway company "Operail", as well as Lithuanian railway company "LTG Cargo", dealt with possible adjustments to the Amber Rail project's business model necessary to promote the project's competitiveness.
Rinalds Pļavnieks, a board member of SJSC "Latvijas dzelzceļš", indicated that since the launch of the Amber Train project in 2018 the situation in the transportation market has significantly changed. "The three countries' project for cooperation in cargo transportation has a large potential in Latvia, Baltics and the wider region, and we have an excellent opportunity to develop this potential. To accomplish this, we need to agree on the following essential points – the end-price's conformity with market demand, the regularity of rail transport and all three Baltic states' support for this project," R.Pļavnieks said, informing about the talks.
"Operail" commercial head Marko Paatsi also underlined the project's regional importance and noted the significance of price as an essential factor: "We do not regard Amber Train only as a Baltic project – this is a project connecting the Baltic and Scandinavian countries with Central and South Europe. This is primarily a connection with Finland, which has bases of paper, wood pulp and wood product cargo which might be delivered even to Italy," said M. Paatsi.
Mindaugas Skunčikas, head of strategic and business development at "LTG Cargo", believes that the launch of rail cargo traffic would create demand from clients, but noted at the same time that the Lithuanian rail company's Kaunas-Duisburg link has been receiving state support for two years, which means that the Amber Train project would also need financial assistance so that it could ensure a charge that would be more attractive than charges in road transport.
On May 29, 2018, the Latvian, Estonian and Lithuanian rail companies signed an agreement in Tallinn on the establishment of a new regular freight transportation route Šestokai-Riga-Tallinn, titled Amber Train, thus laying the groundwork for an intermodal freight transportation route linking all three Baltic states.