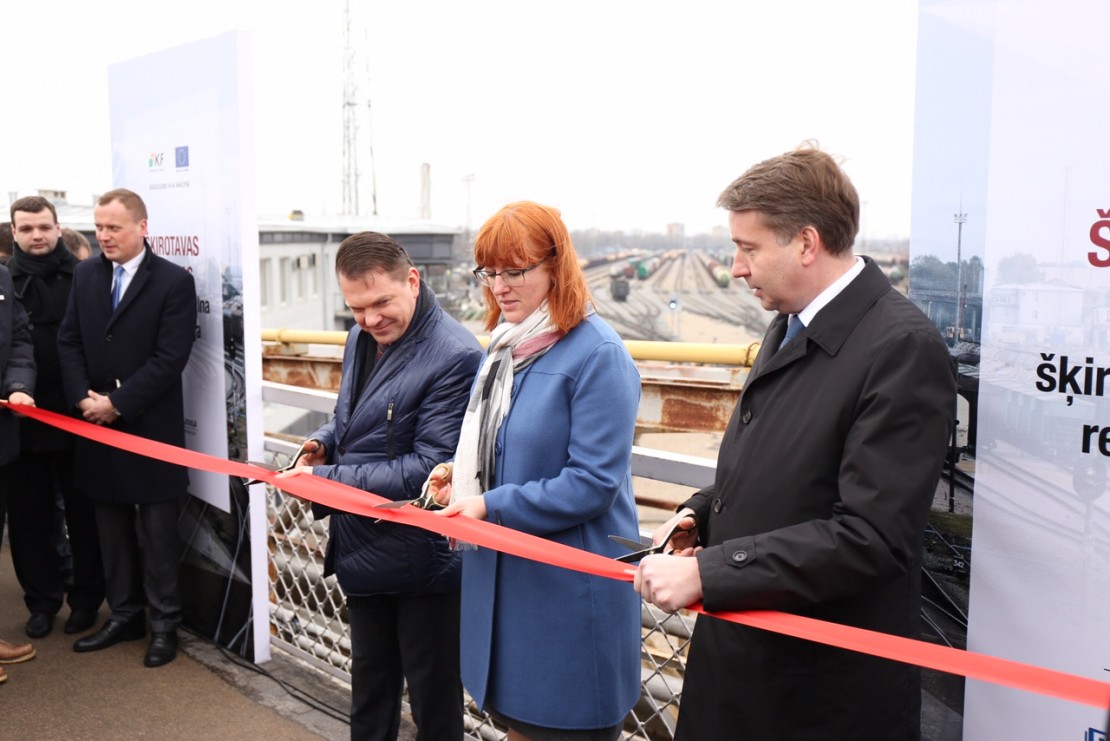 On 8 March 2016 the Minister of Transport Uldis Augulis, together with Chairman of the Board of SJSC "Latvijas dzelzceļš" Edvīns Bērziņš opened the modernized marshalling hump of Riga Šķirotava station that within the framework of the European Union Cohesion Fund and state budget co-financed project has been made one of the most modern marshalling complexes in the Baltic states and in 1520 mm gauge railways.
"Riga Šķirotava station is the largest and most significant railway junction for the forming and sending of freight trains to Riga port stations. The modernization project of Šķirotava marshalling hump is one of the technically most difficult projects realized by LDz, and within this project we have implemented several new technological and IT solutions. This project is one of the preconditions that makes our company and transit way to Latvian ports more competitive," emphasized E.Bērziņš.
"High quality railway infrastructure, as well as provision of modern transport and logistics services, are very important for the promotion of economic growth by attracting cargoes and rising our turnover. Therefore, I am truly delighted to evaluate the modernization results of Riga Šķirotava station because it promotes both cargo processing, as well as facilitates the work of company employees. Every large scale project and investments that makes railway capacity more effective is important not only for the growth of the sector but for the growth of the national economy in general," said U.Augulis.
"Increase of capacity, efficiency and competitiveness – these are significant factors both for the success of business and the country in general. We are happy that together with our partners we managed to implement reconstruction of the marshalling hump and give our contribution also in the improvement of the handling of the wagons in Šķirotava station that allows the transit sector to work more effectively," explained project contractor and Chairwoman of the Board of "BMGS" Svetlana Afanasjeva.
"We, Siemens, are very proud about our contribution in the completely automated marshalling hump that is the first of this kind in Latvia. We would like to express gratitude to SJSC "Latvijas dzelzceļš", head contractor JSC BMGS, as well as all involved sub-contractors and partners who successfully worked with us side by side on Šķirotava marshalling hump project. We are delighted that the new and innovative Siemens MSR32 management system secures increased performance, credibility, lower noise level, as well as will reduce maintenance costs", said Markus Zahmeijers, Senior Vice President for rail automation of "Siemens".
The total costs of the project exceeded 40.3 million euros, of which 24 million euros are co-financing of the Cohesion Fund of the European Union, state budget co-financing was 6.85 million euros, and co-financing by "Latvijas dzelzceļš" was 9.53 million euros.
As a result of the implementation of the project, the processing capability of Šķirotava station marshalling hump is increased up to 3500 wagons per 24 hours, noise level of the station is reduced, 5 km of new rail tracks are constructed, the management and control system is modernized, and a new wagon brake system is installed – 30 new devices that slow down the wagons.
Within the project, an automatic microprocessors system of marshalling hump centralisation and control for sorting and manoeuvring works with automatic regulation of wagon speed was implemented, including the following - power supply system, telecommunication system, lighting, air blowing system for snow removal from devices that slow down the wagons were modernized and new technical diagnostics engineer and hump master on duty work places were set. A new automatic turnout snow cleaning electric system, traffic lights, a system that measures the weight of the wagons, speed measuring devices, wheel detectors, and road detectors were installed; old railway tracks and turnouts in places where their condition did not adhere to technical and operation requirements were reconstructed, and railway tracks in the marshalling yard were rearranged.
During the reconstruction train sorting was relocated to Daugavpils, Rēzekne and other railway junction stations of Riga.
The general contractor of the project is Joint Stock Company "BMGS", but a manufacturer of the hump centralisation and management system is the company "Siemens".