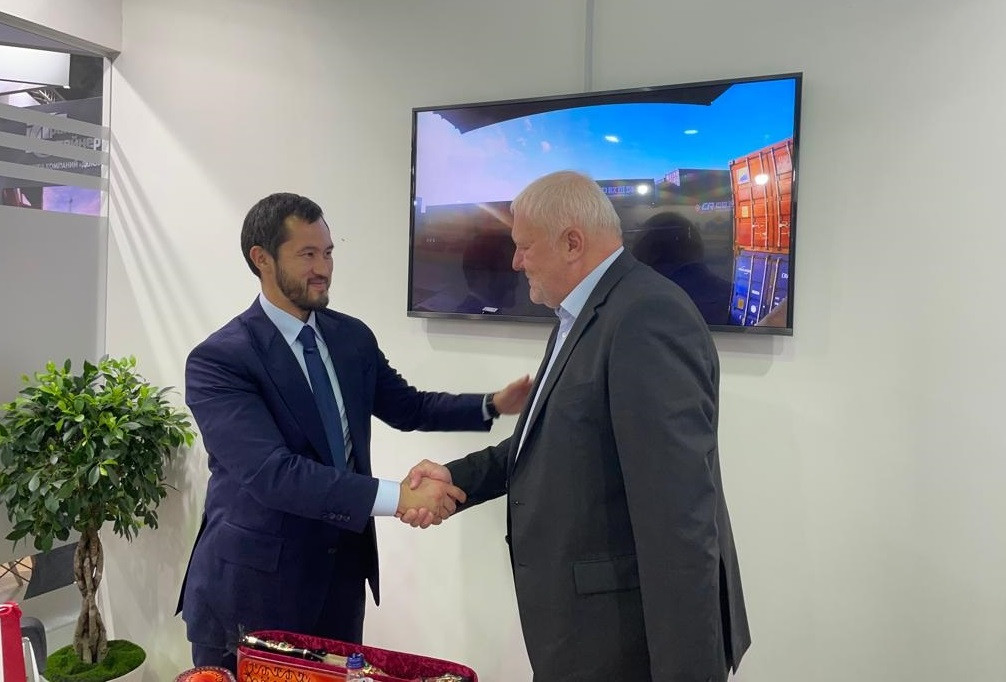 This week, September 20 to 22, SJSC "Latvijas dzelzceļš and its subsidiaries "LDZ CARGO" Ltd. and "LDZ Loģistika" Ltd., together with other largest Latvian transport companies, participate in exhibition Translogistica Kazakhstan 2022, the biggest transport, logistics and technology exhibition in Central Asia and one of the most visited transport industry events in the region.
During the Kazakhstan visit, Māris Kleinbergs, Chairman of the Board at SJSC "Latvijas dzelzceļš", had a meeting with Kazakhstan Railways (JSC KTZ) Board Member and Managing Director for Logistics, Erlan Koishibaev (Койшибаев Ерлан Хамардинович).
SJSC "Latvijas dzelzceļš" Chairman of the Board Māris Kleinbergs comments: "Strengthening and further development of cooperation with Central Asian partners has become especially important for us in these globally difficult times. LDz's freight shipments from Kazakhstan have significantly increased over the last year, and Kazakhstan has become one of the most important foreign partners of LDz. Our objective is to continue the upward trajectory of these shipments, and this can be done both by the entire Latvian transport industry working together to develop and offer new, appealing solutions to partners, and by LDz looking for new customers for freight transportation."
Also during the visit to Kazakhstan, a meeting of the Latvian-Kazakhstan Transport Industry Task Force took place, where participants agreed that cooperation in transport was strategically important for both countries, therefore Latvian and Kazakhstani businesses would continue to cooperate closely to promote transportation of Kazakhstani goods via Latvian transport corridor. Regarding railway transport, participants in the meeting commended the rapid growth of container freight transportation volumes and pointed out the potential of the Eurasian transport corridor between Latvia and Kazakhstan.
Latvia's largest transport companies are represented at the Translogistica Kazakhstan 2022 fair by the single brand VIA LATVIJA, which is a unifying brand for the entire Latvian transport industry. It brings together key industry players that provide complex, safe, fast and efficient transportation and distribution of goods and e-commerce services to global markets.