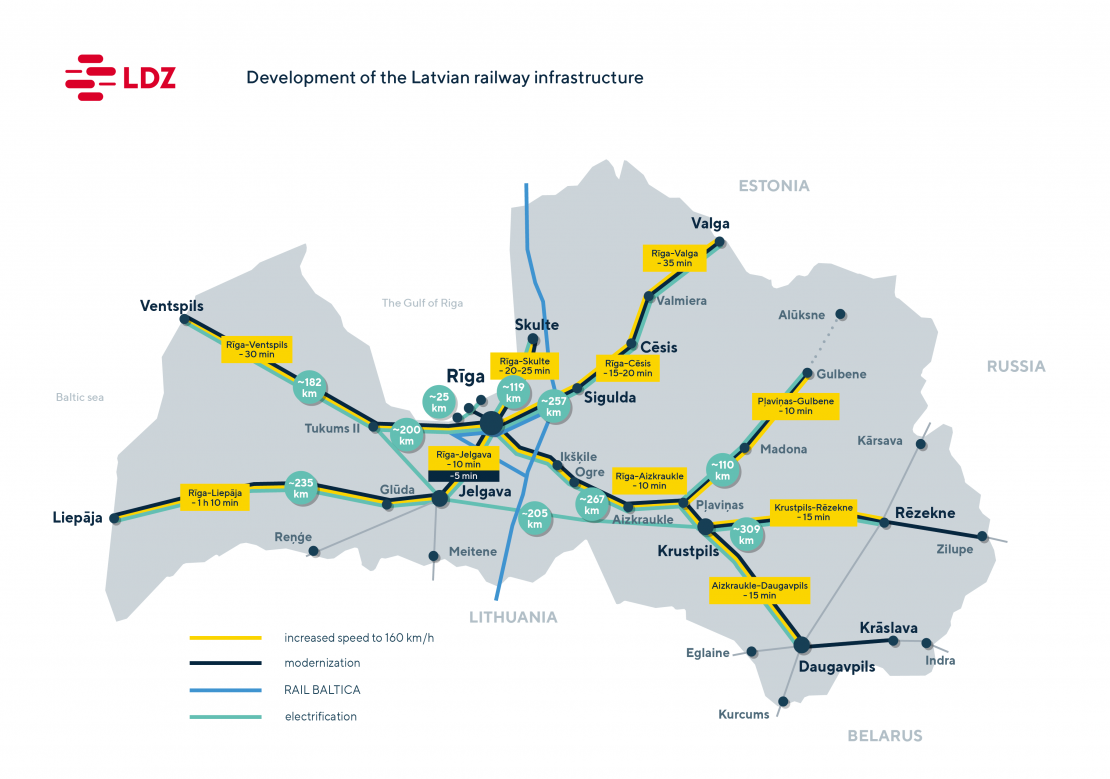 In order to build a sustainable and integrated transport system that promotes passenger and freight mobility, official documents determining the policy of the Latvian transport sector have defined the railway as the backbone of public transport. In order to successfully achieve this, SJSC "Latvijas dzelzceļš" has developed a concept for infrastructure development until 2035, which defines railway infrastructure development priorities and projects to be implemented to improve customer convenience, increase train speed, improve railway safety and reduce its impact on the environment.
The increasing passenger numbers in Latvia and other European Union member countries, as well as activities aimed at the development of railways as the most environmentally friendly, efficient and sustainable mode of transport have created confidence that railways will become increasingly more popular in the coming years.
SJSC "Latvijas dzelzceļš" Chairman of the Board Māris Kleinbergs: "Passenger transportation by rail is currently under scrutiny at the public, state and municipal levels, and the demand for multimodal transport solutions is constantly growing. The European Union's Green Deal also focuses on railways as the most environmentally friendly mode of public transport, which can be integrated with other modes of transport, such as bus and bicycle transport. We expect that after the end of the pandemic, the intensity of passenger transport could quickly recover and even exceed the current levels, and in Latvia this trend will be facilitated by extensive modernization of railway infrastructure launched by LDz, replacement of the current, obsolete passenger rolling stock with new, comfortable trains, and implementation of the Rail Baltica project."
Increasing train speed and traffic volume
The speed of passenger transport by rail is one of the most important factors determining whether people choose railway, another mode of public transport or their own personal car for daily commuting.
In recent years, "Latvijas dzelzceļš" has already implemented infrastructure upgrades in certain railway sections in order to increase the maximum speed of trains and therefore shorten the time passengers spend on trains. At present, the maximum speed of passenger trains in Latvia is 120 km/h.
By the end of 2023, a project will be implemented to increase train speed to 140 km/h in Riga-Aizkraukle and Riga-Jelgava sections, improving traffic safety at level crossings and liquidating spots where train speed is limited.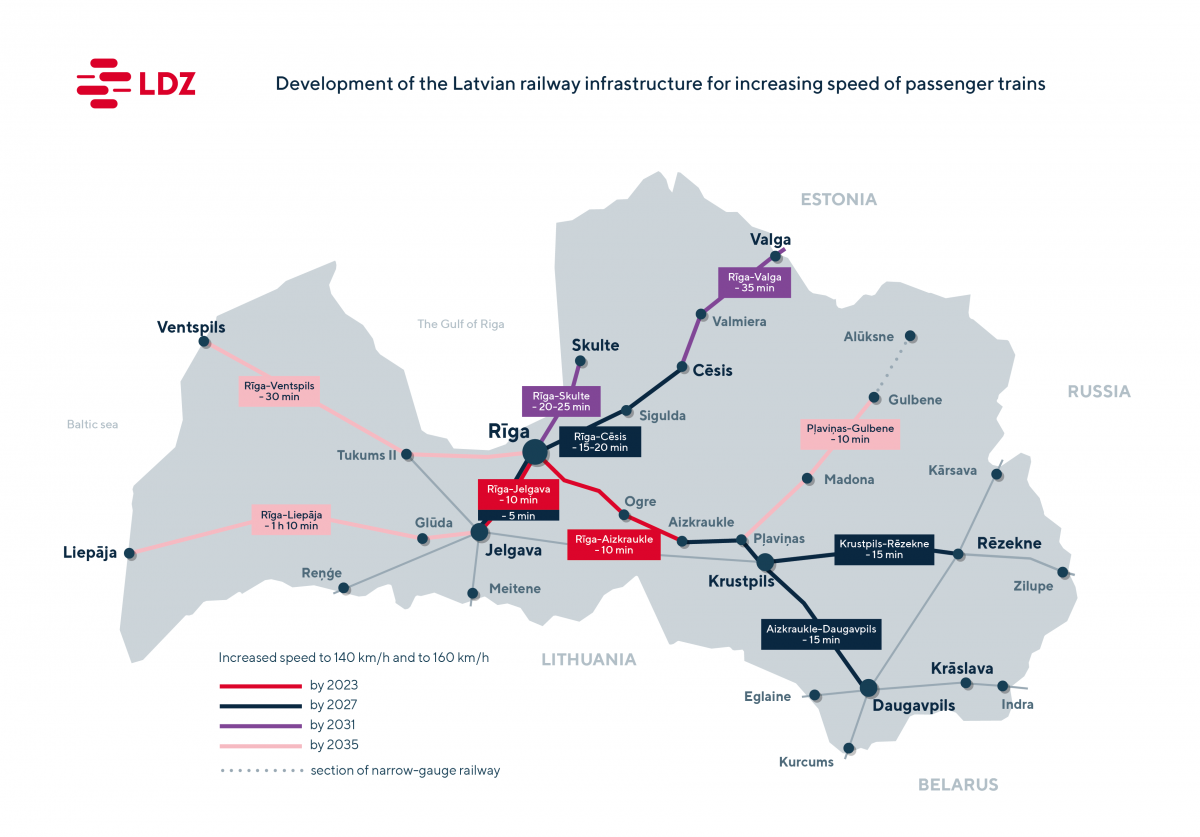 [1]
By the end of 2023, a project will be implemented to increase train speed to 140 km/h in Riga-Aizkraukle and Riga-Jelgava sections, improving traffic safety at level crossings and liquidating spots where train speed is limited.
By the end of 2035, train speeds will be gradually increased, section by section, up to 160 km/h, which will be made possible by electrifying railway lines, reconfiguring tracks, increasing traffic safety at level crossings, as well as proposing amendments to the relevant laws and regulations.
One of the reasons why residents choose trains for daily commuting is how often trains run, especially in more densely populated areas. That is why SJSC "Latvijas dzelzceļš" is planning is to attain such quality of the railway infrastructure, especially on Pieriga railway lines, so that passenger trains could run every 12-15 minutes.
Constant improvements in safety
In order to improve traffic safety on and along railways, more than 20 km of fencing will be installed along railway lines in Riga and the vicinity of Riga – in places where a large number of people live and move around the tracks on a daily basis. By 2035 and using the available funding, such safety fences will be built near railway stations in all cities and in densely populated areas.
Along with the work being done to increase train speeds, level crossings will also be modernized, equipped with automatic barriers, additional traffic lights will be set up on the left side of the road, and level crossing closure times will be optimized.
In addition to infrastructure upgrades, "Latvijas dzelzceļš" will continue to educate the public about safety, especially targeting children and young people, as well as residents living in the immediate vicinity of the tracks.
Installation of fences and reconstruction of the most dangerous level crossings has already begun, the design and construction procurement has now been completed, and the project is expected to be completed by the end of 2023. Construction is currently under way at the Sarkandaugava – Mangaļi – Ziemeļblāzma section of Riga railway junction, which is part of the TEN-T railway network, to improve safety, quality and capacity of the section. This project is also to be implemented by the end of 2023.
Modernization of electrified railway lines and expansion of electrified railway network
If in previous years SJSC "Latvijas dzelzceļš" was planning electrification of Riga-Krustpils-Rēzekne-Daugavpils railway, which at that time was intensively used for freight transport, now that the focus is on passenger transport and compliance with environmental requirements the goal is to replace the obsolete 3.3kV overhead lines, most of which were installed more than 50-60 years ago, with 25kV lines. Such modernization will also bring other benefits, including reduced costs of energy supply equipment, further integration of Latvia into the European railway network, stabilized power supply to the overhead lines, it will also facilitate the development of passenger transport and motivate hauliers to switch to electric traction.
Feasibility studies are currently under way to expand the electrified part of Zasulauks-Bolderāja section by June 1, 2026, as well as to modernize the network of overhead lines in Riga junction and the Riga-Priedaine section of the Tukums railway.
Train stations as mobility points
In order to achieve the goal of making the railway the backbone of passenger transport, it is important to pay special attention to the development of convenient, safe and accessible infrastructure for residents in the vicinity of train stations, at both national and municipal levels. By integrating intermodal connections, developing parking infrastructure for bicycles, electric scooters, cars and pedestrians so that rail stations become the most important transfer point, the need and wish to use personal cars will be reduced.
"Latvijas dzelzceļš" has already started work on the development of such mobility points in cooperation with local governments, handing over areas adjacent to train stations and stopping places to local governments and cooperating with local governments to build park&drive car parks there, as well as convenient and safe bicycle sheds, and to otherwise beautify these areas. "Latvijas dzelzceļš" will continue to transfer land adjacent to train stations to municipalities or businesses for the construction of car parks and other infrastructure upgrades there.
Modernization and construction of train stations and stopping places
By the end of 2023, "Latvijas dzelzceļš" will modernize 48 elevated passenger platforms and related infrastructure along Riga – Krustpils, Riga – Skulte, Riga – Tukums and Riga – Jelgava railway sections.
Continuing modernization of the railway network, train stations and stopping places on the railway lines from Riga to Valga, from Krustpils to Daugavpils and from Krustpils to Rēzekne will be modernized using the available funding until the end of 2027. By the end of 2031, modernized will be stations and stopping places on the railway lines from Jelgava to Liepāja and on Tukums II-Ventspils railway line that is currently being restored, and by end-2035, stations and stopping places in railway section Pļaviņas – Gulbene will be modernized. All the modernized stations will feature quality, safe and convenient infrastructure, as well as accessible environment for all social groups.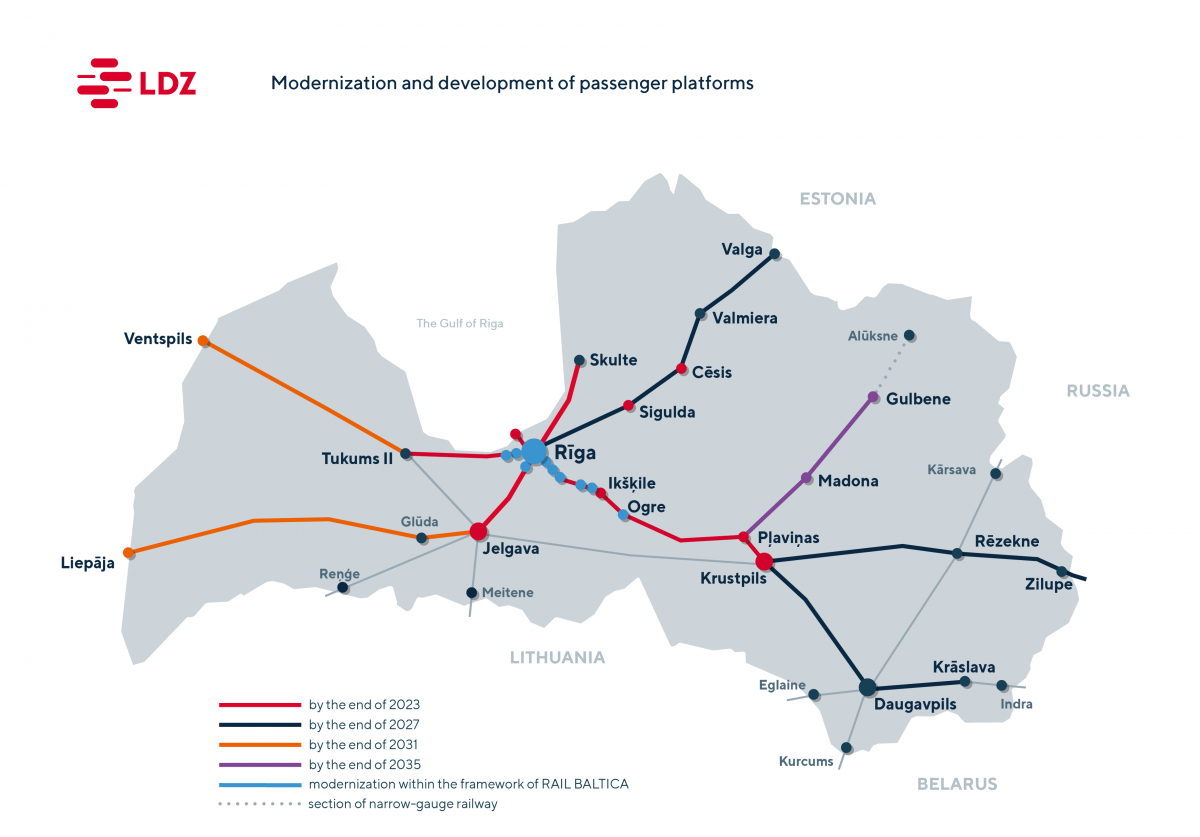 [2]
Accessibility of the environment is an important part of everyday life for people with disabilities, seniors and parents with prams, therefore special attention will be paid to this aspect in the infrastructure development context. "Latvijas dzelzceļš", in cooperation with the Organization of People with Disabilities and their Friends Apeirons, has developed accessible environment guidelines for railway passenger infrastructure. When developing and implementing new railway passenger infrastructure facilities, as well as gradually modernizing and refurbishing the existing facilities, "Latvijas dzelzceļš" will be guided by the basic principles of environmental accessibility for people with impaired mobility included in these guidelines, including for people with various disabilities.
Classification of train stations and stopping places by number of passengers and concept of matching passenger platform equipment
When planning the equipment of railway stations and stopping places, and taking into account the passenger turnover at each of these stations, stations are divided into several classes from A to F according to the numbers of passengers, where a Class A station has annual passenger turnover of more than one million passengers, Class B – 500,000 passengers to one million passengers, Class C – 250,000 passengers to 500,000 passengers, Class D – 100,000 passengers to 250,000 passengers, Class E – 10,000 passengers to 100,000 passengers, and Class F – less than 10,000 passengers per year.
SJSC "Latvijas dzelzceļš" Chairman of the Board Māris Kleinbergs: "The development of railway passenger infrastructure is based on the principle that, regardless of the station or stopping place's workload or the number of passengers it serves, every resident must be provided services of equal quality everywhere in Latvia where there are railways. Therefore, all the stations and stopping points modernized by LDz will have quality, visually attractive canopies of appropriate size, a suitable number of benches, bicycle sheds and other equipment, as well as a convenient and understandable communication system."
As different areas evolve and their populations and habits change, so does the amount of work that has to be done by train stations and stopping points, which is why classification of stations will be reviewed at least every five years to ensure that their platforms are properly equipped to accommodate passenger numbers.
The total estimated cost of all railway infrastructure development projects could amount to EUR 4.5 billion by 2035, and the projects will be implemented subject to the availability of financial resources.