How are the payments made?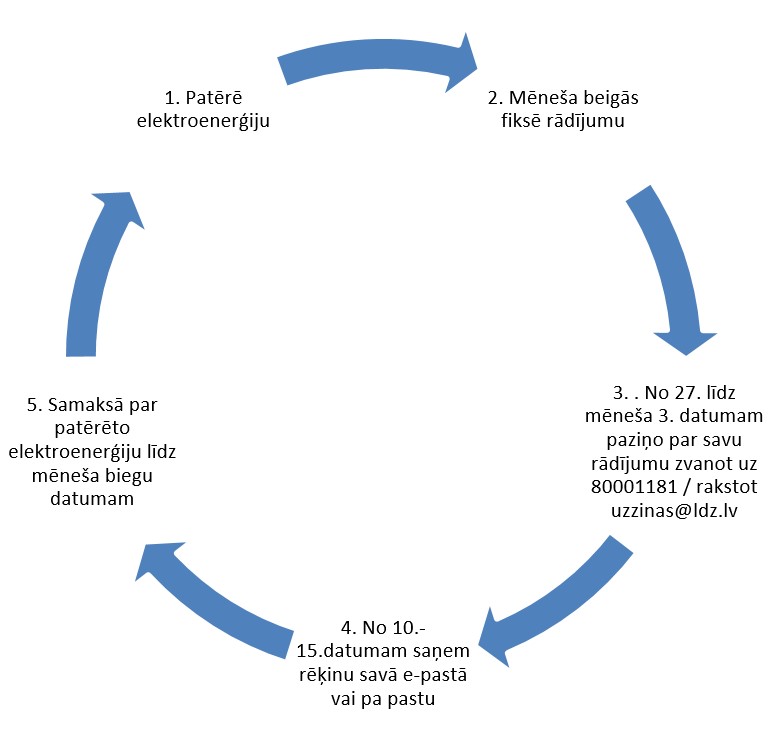 Consume electricity;
Check the readings at the end of the month — register the meter readings at the end of the month, to see your power consumption for the month;
Send the meter readings — advance payments are only made if you use the self-reporting method, but as of 1 June 2018, clients must report the readings within day 27—3 each month, calling the free railway information line at 80001181 (working hours: 8:00—17:00), or writing via e-mail at uzzinas@ldz.lv.
For example, for electric power consumed in June, you must report the meter readings within the period between 27 June and 3 July (inclusive)
If the meter readings are not submitted in time, LDz will prepare a bill based on your average consumption within the previous 12 months.
Receive your bill — you will receive a bill for the reported consumption within a period from the 10th until the 15th, at your postal or e-mail address.
Pay your bill — the deadline is the end of the current month. Please not that the date of receiving the payment is the date of your payment coming in to the billing account indicated, and we would like to remind you that transfers between banks can take more than a day, and such transfers are not carried out on weekends.
What is included in the electricity fee? - Electricity + distribution + mandatory procurement components (its variable part depends on the consumption of electricity, and the fixed part depends on the technical parameters of the connection)
How to pay? - You can pay by transferring the money to the following account:
Account details:
VAS 'Latvijas dzelzceļš'
Registered address: Gogoļa iela 3, Riga LV-1547
VAT registration No. LV40003032065
Signalling and communication Unit
Act. address: Gogoļa iela 3, Riga, LV-1547
Luminor Bank AS, SWIFT code RIKOLV2X
Settlement account: LV91RIKO0002013154315
The payment order must include: the client's number, name and surname, the number of the meter, and the reading period from/until.